EP 379 | Aired 03/26/2018
2018 Argentine Red Shrimp Fishery and Production Summary
March 26th, 2018 - In this week's episode we will discuss the Argentine Red Shrimp market.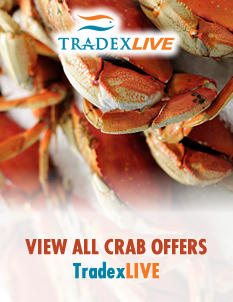 The Red shrimp fishery is divided in to two seasons - a provincial season where shrimpers need a provincial water license, and a National Water season in Argentine waters. The provincial season runs from the end of October to May when the shrimp are typically in shallower waters. We spoke to a local processor of Argentine Red Shrimp who noted that as of last week shrimp catches are already beginning to decrease as the shrimp are migrating deeper. Smaller shrimping boats are seeing yields between 20 to 40 percent, which is typical but will create a production lull. This season is when EZ Peel shrimp is produced, with a nice red shell in sizes from U15 and bigger. The National fishery, which begins in May and is fished by bigger frozen at sea ships, the Argentine shrimp will be processed P&D or headless shell-on, mainly as 15/20s and 21/25s.
Landings this year from January to March 21st totalled 30.5 thousand metric tonnes of Red Shrimp, compared to around 40 thousand metric tonnes the same time last year.

The largest harvests last year were between July and September. The local processor we spoke to also mentioned that the Argentine government will not be issuing new licenses to new boats, rather revewing licenses for new boats. He believes that this will control the amount of fish harvested and the stock will grow. Both the provincial and National Wild Argentine Red Shrimp fishery is seeking MSC certification and are completing FIP's to reach that goal. Tradex firmly believes that Wild Argentine Red Shrimp is a great product that supports local fishermen and will try to contribute to the positive development of this fishery anyway they can. Pricing on 21/25 count P&D red shrimp has been around $5.55 per pound in Seattle for the past several months and we anticipate pricing to remain steady this Spring.
Finally, our TradexLIVE offer of the week is for 16-32oz Shatterpack Pacific Cod fillets. We have 4,500 lbs of Sinbad brand, twice frozen, #1 quality fillets available in Los Angeles at $3.30/lb USD.
Copyright © Tradex Foods Seafood News