EP 416 | AIRED 12/10/2018
The 2018 California Loligo Squid Fishery
December 10, 2018 - The total allowable catch for the season running from April to March is always set at 118 thousand short tonnes, or 236 million pounds. California Loligo Squid fishing is largely dependent on favourable water temperatures...
California Loligo squid fishing is largely dependent on favourable water temperatures.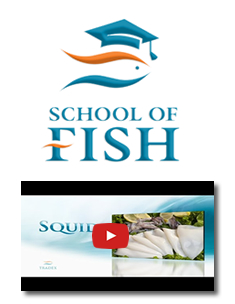 In October this year, fishing began and was poor until the squid began to rise to warmer waters last month.

The landings to date are 47.3 million pounds for this year's fishery so far.

About five years ago, landings were very strong and the Total allowable catch was almost always harvested.

Between 2015 and 2016 we saw very low landings due to the warm "blob" that was along the coast of California.

Last year's fishery recovered to 137.5 million pounds of loligo squid so we anticipate seeing similar levels this year.
--- Loligo squid is net caught and delivered to shore base plants on the California coast where it's mainly frozen whole and uncleaned.

Some larger bulk packs are shipping to China where inexpensive labour allows for further processing into cleaned tubes and tentacles or rings.

However, with the US import tariffs imposed on Chinese processed products, imported twice frozen loligo squid is a further ten percent higher than earlier this year.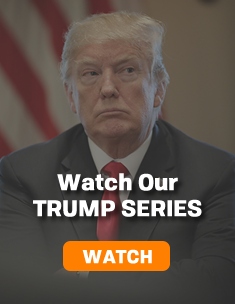 --- Current pricing on whole round block frozen uncleaned squid is around $2.10/lb on the West Coast.

3lb retail pack squid is around $2.25/lb FOB Los Angeles.

The predominant production is currently for 12-14 count per pound, which is smaller than normal but not uncommon - the strongest demand is usually for 9/12 count.

--- Tradex is aligned with processors that have many pack sizes of the West coast of the whole squid for retail and food service clients and will start to carry these various packs on the East Coast USA by the end of December - call your account rep for pricing.

--- In conclusion, our TradexLIVE offer of the week is for 12-14 count per pound loligo squid.

We have 40,000 lbs of block frozen, uncleaned, current production squid available for pick up in Los Angeles for $2.10/lb USD.
TradexLIVE Offer of the Week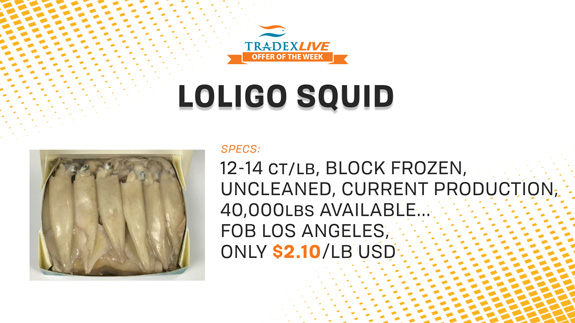 (Click to View Offer)
If you have a topic you'd like to hear on upcoming 3-Minute Market Insights, tweet us on Twitter @TradexFoods
Subscribe to our 3-Minute Market Insight