EP 418 | AIRED 12/31/2018
Strong King Salmon Pricing Leading Into 2019
December 31, 2018 - In British Columbia, the Department of Fisheries and Oceans reduced the Chinook quota by roughly one-third, and the Strait of Juan de Fuca had a full closure from June to October...
Declining populations of Chinook salmon have become a critical factor for the decline of killer whales.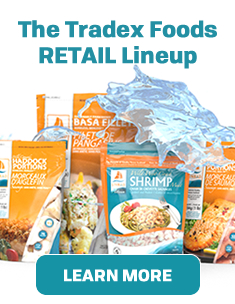 DFO recently published the 2019 Outlook for salmon species, citing below average survival for Chinook stocks, as well as decreases in age-at-maturity for Chinook.

Indicators continue to point towards the potential for a complete closure of Chinook salmon in British Columbia next year.

Another factor for salmon harvest declines is climate change.

A recent study showed that changes to ocean temperatures and ocean acidification have affected how salmon process smells and is causing them to get lost on return trips to breeding grounds.
--- In Alaska, Chinook salmon this season had the lowest harvest value since 1975, even though 235 thousand fish were harvested this year, above and beyond the 99,000 fish forecasted.

Overall outlook for the Alaskan Chinook salmon fishery is positive, however it makes up less than 1 percent of the statewide fishery for Salmon.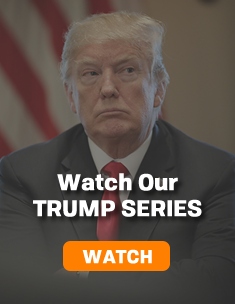 --- It's no surprise that pricing on King salmon is still high, and decent inventory from 2018 is still available.

Dark skinned pale meat colour headed and gutted IQF King salmon is in the range of $1.60/lb for 4-7lbs and $1.85/lb for 7-11s.

For Good meat colour bright skin kings, expect to see prices closer to $14.25/lb.

Given all market factors, buyers should anticipate strong pricing to continue leading into 2019.

--- In conclusion, our TradexLIVE offer of the week is for Sinbad Platinum IVP Trim C Sockeye Salmon Fillets.

These are packed 1x25lb in our 100% net weight guaranteed Sinbad Platinum brand, available for pick up in Seattle at $7.95/lb USD.
TradexLIVE Offer of the Week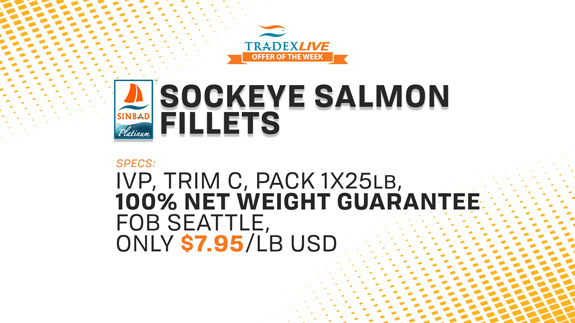 (Click to View Offer)
If you have a topic you'd like to hear on upcoming 3-Minute Market Insights, tweet us on Twitter @TradexFoods
Subscribe to our 3-Minute Market Insight