EP 448 | AIRED 07/29/2019
3MMI - West Coast Dungeness Crab: Domoic Acid, Tariffs, Strong Harvest, Softening Market
July 29th, 2019 --- In this week's episode we examine all five West Coast Dungeness Crab Fisheries from Alaska to California and uncover market conditions inflicted by tariffs, closures, and strong harvest.
2019 Alaska Salmon Commercial Harvest Counter
(Harvest in thousands of fish)
Delays and closures in the California and Oregon Commercial Dungeness Crab Fisheries saw the market short on inventories for a while, however the market does look to have taken a turn.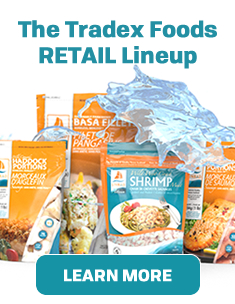 Strong harvest even in the midst of closures and delays, and less demand from China on live crab due to tariffs are paving the way for the market to potentially soften.

--- Southeast Alaska is responsible for the bulk of the Dungeness harvest in Alaska.

The 2019/2020 commercial season opened June 15th and has already exeeded the Alaska Department of Fish and Game's projection of 2.25 million pounds, harvesting just over 2.5 million pounds so far.

Typically 80 percent of the harvest will happen by August 15th.

The 2018/2019 season saw just over 4 million lbs harvested.

--- In British Columbia, Canada the 2019 season is reporting one of the highest adbunances that Area A has seen in decades.

Fishermen are said to be hauling in harvests worth up to six figures a trip this season in the Hecate Strait, BC.

We contacted The Department of Fisheries and Oceans Canada for 2019 harvest totals however those numbers are not available yet.

They advised we could get an idea of variability of harvest totals by looking at past year's catch data which has been on an upward trend since 2016.

When asked about any affects of Domoic Acid to the Canadian fisheries, DFO advised "Domoic acid (ASP) hasn't affected BC's crab fishery at this point."

--- The state of Washington also currently does not have concerns from Domoic Acid in the Dungeness Crab Fishery where the levels have been low or non-existent for the past 2 years.

Traditionally this fishery starts up in December but since the 2015-2016 season has started up in January failed shell condition tests.

Most recent harvest totals from the Washington Department of Fish & Wildlife is just over 11 million pounds landed as of mid-June with the fishery closing mid September.

The 2017-2018 season saw 12.4 million pounds of Dungeness Crab landed.
The 2016-2017 season saw 16.4 million landed, and the 2015-2016 season saw 12 million pounds landed.

--- In Oregon, Domoic Acid detected in Dungeness Crab samples resulted in eviscerations orders being issued this season in southern Oregon.

Under an evisceration order, all crab from the affected area must be sold to a processor who eviscerates them - in other words, there are to be no sale of live or whole-cooked crab harvested from those areas.

The Oregon Department of Fish and Wildlife advised us they have never detected domoic acid above human health thresholds in crab meat in Oregon.

The ODF&W also noted that these actions affected the per pound ex-vessel value of crab landed during evisceration orders as live crab is a more valuable product form.

The current Oregon Commercial Dungeness Crab season runs through August 14 where fishermen have landed just over 18.6 million pounds of crab this season.

ODF&W noted this number is better than preseason forecast, but below the 20 and 23-million pounds landed the past two seasons.

Almost 85 percent of the season's catch is brought in during the first two months of the season.

With just a couple of weeks left, ODF&W does not anticipate any major changes to the current catch totals.

--- California has seen more instances of Domoic Acid in Dungeness Crab and, to this point, has had no other recourse but to delay or halt the start of the season.

The longest closure to date of the California Dungeness crab fishery occurred during the 2015-2016 fishing season.

The 2018-2019 commercial Dungeness Crab fishery saw delays to start and closed early on April 15, 2019 due to increased marine entanglement risk.

The California Department of Fish and Wildlife advised us the 2018-2019 season saw 13 million pounds Dungeness Crab harvested down from 20.4 million during the 2017-2018 season.

Similar to Oregon, about 80 percent of the landings occur in the first 2 months of the season.

Since the season ended early in the spring, CDF&W advised us the 2018-2019 catch totals should be fairly complete.

My recommendation to buyers is to buy only what is required for week to week use while we monitor dynamic market conditions.

--- And finally, our TradexLIVE offer of the week is for Brine Frozen Dungeness Crab Sections.

We have 20,000 lbs available of MSC certified, cooked, ocean run sizing, dungeness crab sections at $9.50/lb USD in Seattle.


TradexLIVE Offer of the Week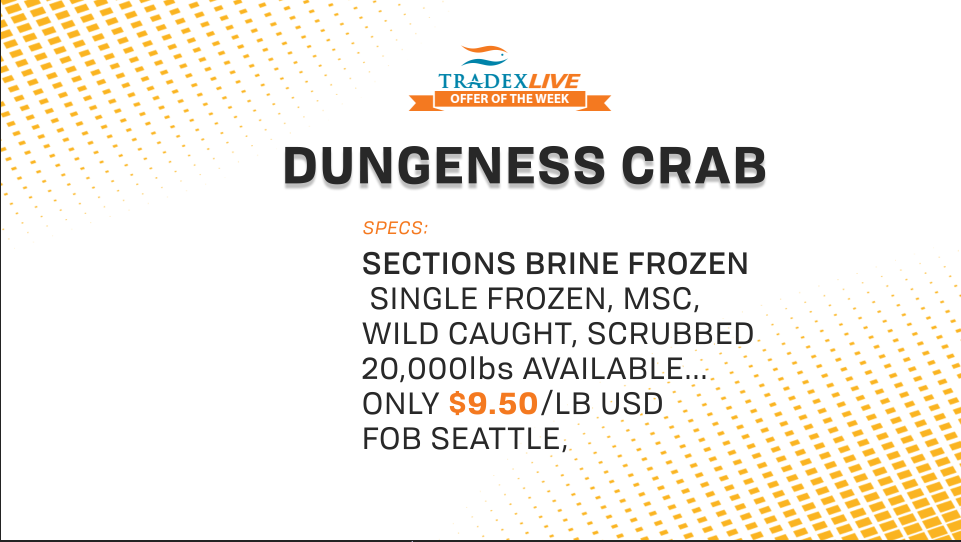 (Click to View Offer)
If you have a topic you'd like to hear on upcoming 3-Minute Market Insights, tweet us on Twitter @TradexFoods
Subscribe to our 3-Minute Market Insight