EP 503 | AIRED 08/31/2020
Hokkaido, Russian and Alaskan Chum's Update
August 31, 2020 --- This week we report and update on Japan's Hokkaido Chum Salmon Fishery, and compare it to Russia's and Alaska's Chum Salmon Fisheries.
The Hokkaido Chum Salmon fishery in Japan typically starts up at the end of August.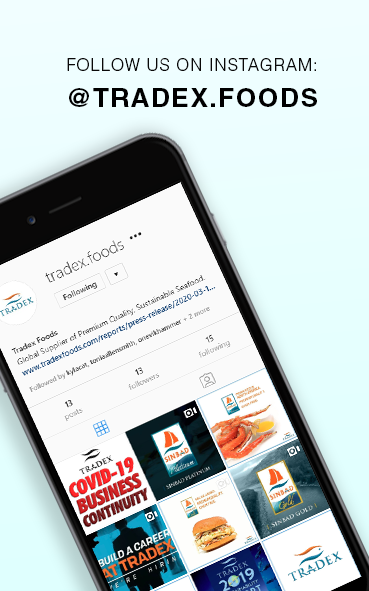 Pre-season forecast out of the Hokkaido Research Institute for the 2020 season is calling for about 20 million fish to be harvested over the next month or so.
The Institute's forecast uses the method of proportion between age cohorts of maturing Chum Salmon returning to spawn as some evidence for the next year's return forecast.
Fishing is typically slow until around mid-September but can then reach it's peak harvest within a few weeks by the end of September.
Hokkaido Chum Salmon are mainly consumed domesitcally in the Japanese market and according to data from the Japanese government, 65,000 metric tonnes of Chums (or 16 percent of the total catch in Hokkaido) went to export markets in 2018.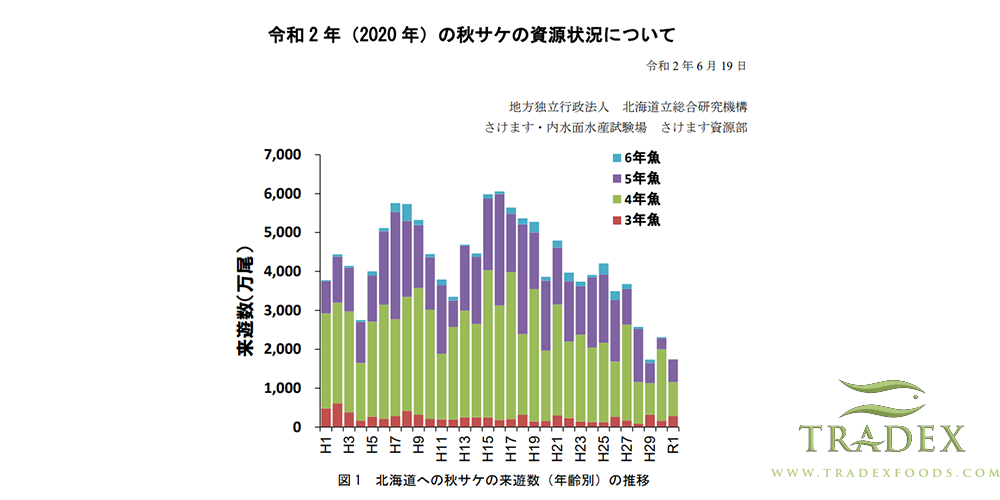 --- Now for a review of the 2019 season. Just over 17 million Chum's were harvested in 2019 which is a staggering 76 percent of the previous year's numbers where 27.6 million fish were harvested.
hhh Fish size averaged 3.32kg (or 7.3lbs) for 2019, an increase from 3.04kg (or 6.7lbs) last year.
2019's harvest represents the worst year over the last 5 year's Chum Salmon harvest levels for Japan.
The Hokkaido Research Institute believes this shortfall may be due to a significant change in siblings relationships between the numbers of 3-4 year old fish and the numbers of 4-5 year old fish.
However, the reason why there were changes in sibling relationship remains unclear.
--- So, how does Hokkaido Chum Salmon harvest compare globally to other countries.

Recent updates from Russia show that about 18,000 metric tonnes (or an estimated 6 million) Chum Salmon have been harvested

Russia's 2020 pre-season forecast was for 113,500 metric tonnes (or an estimated 36 million) fish.

In 2019, Chum Salmon harvest in Russia totalled 112,000 metric tonnes (or 36.6 million fish) and in 2018, 110,000 metric tonnes (or 49.7 million fish).

In the USA, Alaska's Keta harvest just passed the 5 million fish mark which is 12 million behind the states 5-year average and only a quarter of the species' 2020 projection has been realized.

As for Washington State Chum's, the fall fishery has not begun however fishery managers are warning of another troubled season.


This Weeks Sponsored Message:

In 2019, Alaska brought in 19.8 million Chums and Washington - 287,000 Chums.

For the 2018 season, Alaska brought in 21.1 million and Washington 849,000 Chums.

As reported in previous episodes, I would not anticipate much fish from Canada for Chum's with the dire state of BC's Wild Salmon fisheries.

2019 saw only 185,000 Chum commercially harvested in Canada compared to 764,000 fish in 2018.

--- Our recommdation is to Purchase your Chum Salmon Needs Now as Chum Salmon Supplies will Sell Out this year.

The gauge on Russian Chum's is that it will be short this year and most of it's supply will go to China.

Keep tuned into your 3-Minute Market Insight as we continue to monitor and report on this rollercoaster of a year for Wild Pacific Salmon.