EP 415 | AIRED 12/03/2018
Argentine Red Shrimp: Strike Delays, High Demand, Strong Pricing
December 3, 2018 - The Argentinean red shrimp fishery has been rapidly growing in the past five years - about 100 percent growth since 2014. Growing from 129 thousand metric tonnes landed in 2014 to 243 thousand metric tonnes last year, with almost 250 thousand metric tonnes projected catch for this year...
The fishery is split between two fleets: inshore, the land frozen fleet, and offshore, the frozen-at-sea fleet.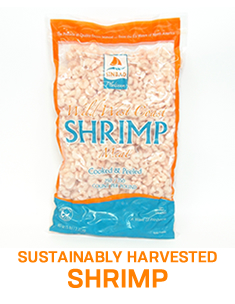 Inshore boats fish between June and March, in different spots along the coast, whereas offshore boats fish between May and October in the "National Fishery."

EZ Peel shrimp is produced from the inshore vessels, which yields shrimp that's quite red and has a tough shell, usually in the larger U15 size.

The offshore fleet harvests premium quality shrimp, often processed P&D or headless shell-on, mainly as 15/20s and 21/25s given the time of the year they are targeted.

--- The fishery naturally tapers towards the end of the calendar year, but this year we saw a sharp decline for November as the Argentinean United Maritime Workers Union went on strike beginning November 15th.
The strike caused a delay in the start of the inshore fishery, which was settled by last Thursday, but it was projected that over $130 million dollars were lost from fisherman and processing plants.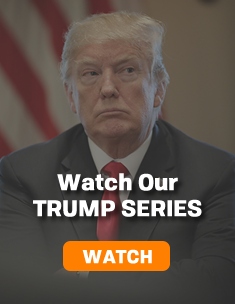 Fishing has resumed now but in November last year there was 15 thousand metric tonnes produced, which will not be produced this year, so pricing is sure to be strong during the shortage.

In the summer, pricing was around $6.05/lb for P&D Tail On IQF Red Shrimp from the National Fishery.

Demand is still strong in the USA and China so pricing is anticipated to remain strong during less supply.

--- In conclusion, our TradexLIVE offer of the week is for 1-3lb Sinbad Platinum Sockeye salmon fillets.

These are #1 quality, IVP, packed 1x25lbs in our premium Sinbad Platinum brand at $7.95 FOB Seattle.
TradexLIVE Offer of the Week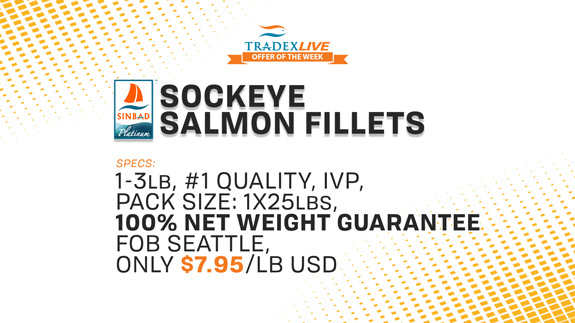 (Click to View Offer)
If you have a topic you'd like to hear on upcoming 3-Minute Market Insights, tweet us on Twitter @TradexFoods
Subscribe to our 3-Minute Market Insight