EP 427 | AIRED 03/04/2019
Cod MSC Certification, Evolutionary Change To A West Coast Crab Species
March 4th, 2019 - The release of public comment draft reports for the Western Bering Sea Pacific Cod Longline fishery is expected to be made public some time this month.
Pacific Cod from the Bering Sea and Aleutian Islands caught by jig, bottom longline, trap and trawl is currently MSC certified and has been for some time.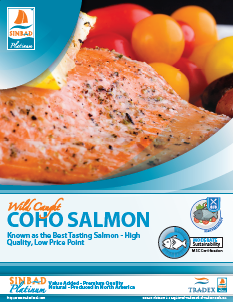 The addition of the Western Bering Sea longline fishery would dramatically increase the availability of MSC Pacific Cod in the market.

Peer Reviews have recently wrapped up, with certification results expected by June.

The accessibility to the MSC terminology will spread it's reach even further in the Cod market with less exclusivity given to Alaskan raw materials.

This could help stabilize pricing between to the two regions, but it's too early to determine the effect until certification results are announced.
--- In other news, a study came out last week from our local University of Victoria about a local deepwater spider crab called the Tanner crab.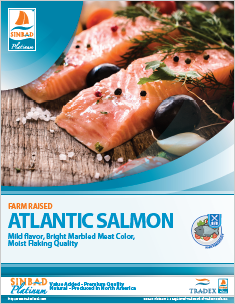 The crabs have been adapting to ongoing climate change that has made their typical food source of phytoplankton become scarce.

Tanner crabs have been consuming methane seeps from the deep seafloor which typically feeds clams and mussels.

The Department of Fisheries and Oceans do not have a commercial fishery for the tanneri species which typically lives 500 to 3000 meters deep.

It's another example of how climate change is affecting species along the West Coast.

--- And Finally, our TradexLIVE offer of the week is for SINBAD Gold IQF Pollock Loins.

We have 2oz, 3oz, and 4oz loins packed in our chem free Sinbad Gold brand available in Boston at $2.44/lb.
TradexLIVE Offer of the Week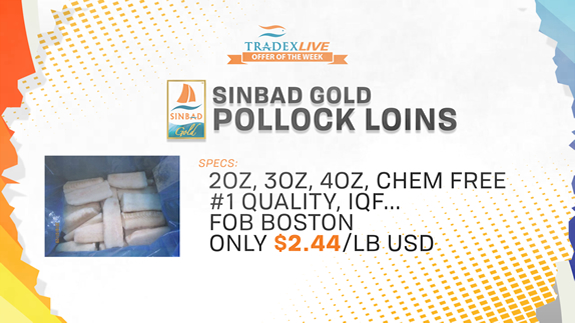 (Click to View Offer)
SINBAD Gold products are harvested from sustainable fisheries (when possible) and are produced from the finest raw materials with exceptional harvesting and processing standards. All products follow our industry best 7-Step Quality Control Process delivering comprehensive inspections at every stage of processing. Our SINBAD Gold Brand is our Zero Additive, Premium Quality product line Produced in Asia.
If you have a topic you'd like to hear on upcoming 3-Minute Market Insights, tweet us on Twitter @TradexFoods
Subscribe to our 3-Minute Market Insight