EP 429 | AIRED 03/18/2019
Salmon Production And Inventories in China
March 18th, 2019 - With most seafood Buyers in Boston this week for Seafood Expo North America, we think it's pertinent to review salmon inventories and supply outlooks as it will be a topic of discussion amongst many buyers.
After speaking to many packers of Pink salmon in China, we can see that Russian processors' inventory holdings of raw materials are strong, driving down Russian pricing before Chinese New Year.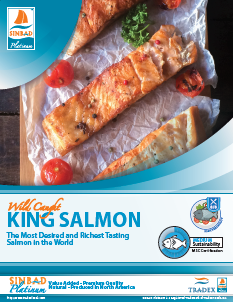 It is reported that between 5,000 and 8,000 tonnes are available from Russian processors holdings in Dalian, which is southern to Qingdao which has limited raw material inventory on hand.

Some plants are reporting smaller sized Russian fish, between 500 and 600 grams on average.

Russian raw materials dropped from around $3500 per metric tonne to $2600, in an effort to move inventory.

--- The driving factor behind stronger pink salmon inventory holdings in China is due to weaker demand from the North American market.
Suppliers secured raw materials in advance of Chinese New Year as well as fewer customers seeking Chinese processed salmon portions.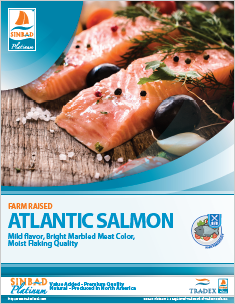 Chinese processors typically secure salmon raw materials in large purchases for production in the following 10 months.

Single frozen Chum salmon portion pricing in Canada and the United States is sitting at a lower price point than Chinese processed portions, which has currently risen due to higher Chum raw material prices.

Demand in the European Union is still strong, most pink samon is purchased for the E.U. after portioning in China.

New raw materials are expected sometime in August or September so we should see some inventories begin to move, driving up pink salmon raw materials and softening chum salmon pricing.

--- And Finally, our TradexLIVE offer of the week is for Sinbad Pacific Cod Loins.

We have 10,000 lbs of 6oz Pacific Cod Loins available in Los Angeles for $3.75/lb USD.
TradexLIVE Offer of the Week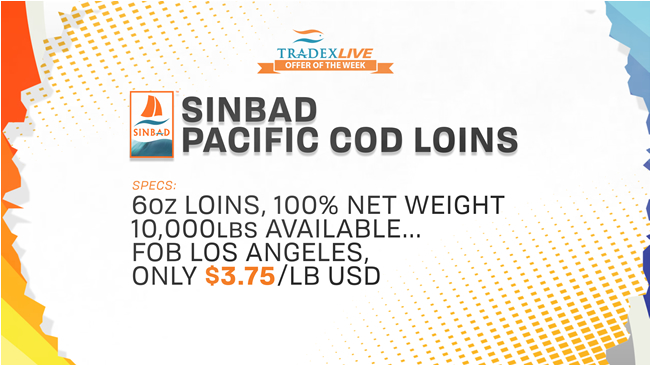 (Click to View Offer)
SINBAD products are harvested from sustainable fisheries (when possible) and are produced from the finest raw materials with exceptional harvesting and processing standards. All products follow our industry best 7-Step Quality Control Process delivering comprehensive inspections at every stage of processing. Our SINBAD Brand is our Value Priced, Premium Quality product line Produced in Asia.
If you have a topic you'd like to hear on upcoming 3-Minute Market Insights, tweet us on Twitter @TradexFoods
Subscribe to our 3-Minute Market Insight