EP 447 | AIRED 07/22/2019
3MMI - Alaska Summer Salmon Season At The Halfway Point
July 22nd, 2019 --- The question on everyone's mind is - where are the 2019 Alaska Chums?
2019 Alaska Salmon Commercial Harvest Counter
(Harvest in thousands of fish)
Current Chum Salmon harvest in Alaska are not living up to it expectations.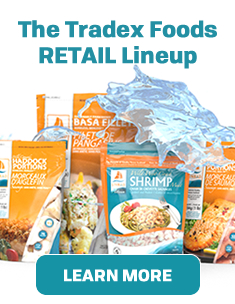 This can be attributed to the poor landings out of Southeast Alaska where this area's harvest make up the majority of the Alaskan Chum Salmon run.

28.9 million Chums were forecasted for the state of Alaska and Southeast Alaska was forecasted to see a harvest of 20.5 million fish.

Harvest totals at statistical week 28 show just over 300,000 Chums through Southeast Alaska whereas the same time last year harvest totals were at 2.9 million Chums.

Fisheries managers are still hopeful at this point that the fish are late rather than missing.

Let's go over to our Salmon Buyer Rob McNutt to see what he is hearing regarding the disappearance of the Southeast Alaskan Chums.

[Rob McNutt]

We have a potential disastrous season in Southeast Alaska where some of the best quality Chum come from.

Some processors are saying the run could be late, while others are saying it's a disaster.

Fishermen i've talked to have been formulating their own theories.

One interesting theory was an area in PWS was predicted at 250,000 and over 1 million have shown up – theory being: The South East Chum could be following like

sheep to other areas.

A very wild theory I read was high sea's gillnetters are snagging them all.

Although the reason for the disappearance remains a mystery at this point, one thing for certain is there is a very small chance we will see very many brite Chums in SE.

Prices WILL START to climb again.

EARLY SEASON FROZEN H&G WAS BEING OFFERED IN THE LOW TO MID $1/LB RANGE I would expect most vendors to pull their offers next week to make way for higher prices.

I RECOMMEND BUYING 2018 CHUMS IF YOU CAN, BEFORE THEY RISE IN PRICE AS WELL..

I SUSPECT The grounds price for other areas in Alaska will go up. I am pretty sure about this one.
[BACK to Rob Reierson]

--- Sockeye harvest in Alaska have already exceeded Alaska Department of Fish & Game's forecast of 42 million fish with current totals surpassing 43 million fish.

from a processor point of view, speculation is that Sockeye prices will remain firm.

Japanese buyers have a much different price idea in mind which is in the low $3 range.

--- Pink Salmon in Alaska are coming in as expected and on par with the 5 year average.

We are a few weeks before the peak of this fishery and current harvest totals are over 22 million Pinks where the forecast is for just over 137 million fish.

Although we saw record-breaking early-season volume, actual catch could see landings less than 2017 volumes which could mean prices on Pinks will be stable this season.

We are hearing prices of low $1.00/lb for Ocean Run and mid $1.00/lb for 2lb+.

One thing to watch for is the average size of H&G Pinks.

They are currently around 1.86 pounds headed and gutted which means 3lb+ fish will be kept at a premium.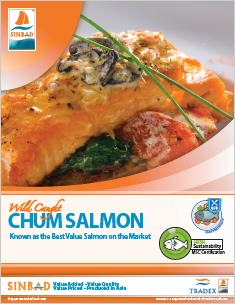 --- Chinook Salmon harvest in Alaska have reached just over 191,000 fish of the 250,000 forecasted by the Alaska Department of Fish & Game.

Due to the closure of some Canadian Chinook Fisheries, the price on frozen Kings will inevitably go up in price.

If you are in need of Chinook Salmon right now, we have an offer on TradexLIVE of $10.50/lb for 11-18lb FAS TROLL Alaskan Kings. Right now, this is a great buy.

--- Coho Salmon in Alaska have surpassed 280,000 fish of the 4.6 million fish forecasted.

The peak of Coho landings is still roughly six weeks away and early indicators are slow with Year-To-Date volumes one third lower than 2018 and half of the five-year average.

It is still too early for what the pricing might look like so keep tuned into our 3-Minute Market Insight to keep posted on this.
TradexLIVE Offer of the Week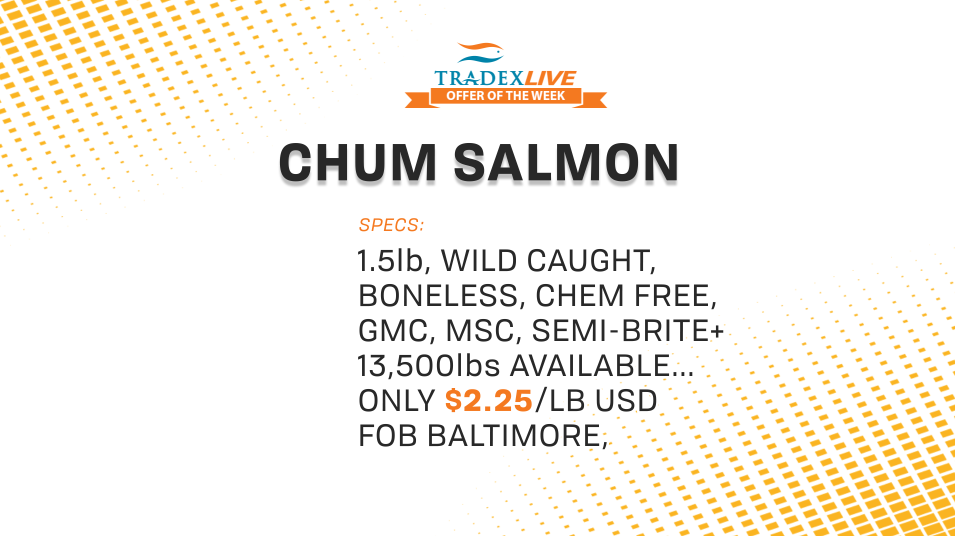 (Click to View Offer)
If you have a topic you'd like to hear on upcoming 3-Minute Market Insights, tweet us on Twitter @TradexFoods
Subscribe to our 3-Minute Market Insight