EP 450 | AIRED 08/12/2019
3MMI - The Haddock Market After Trump Imposed Tariffs
August 12, 2019 --- In this week's episode we examine the Haddock market a year after the US imposed tariffs on China. It's a bewildering thought that there was a 10 percent US imposed tariff on China, turned into a 25 percent tariff, and now just seems normal.
2019 Alaska Salmon Commercial Harvest Counter
(Harvest in thousands of fish)
--- In the USA, demand for Haddock from foodservice seems to be non-existent.

Indicators show there was enough Haddock inventories in the country until the beginning of 2019 but since then orders have practically come to a halt.

We are hearing there is some success with Haddock bits and pieces, a by-product of fillet and portion production.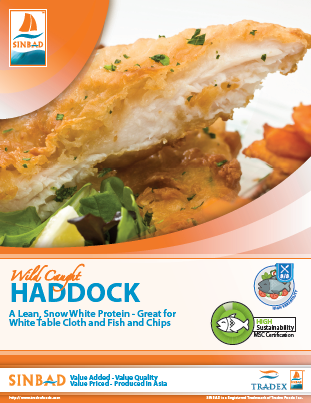 Domestically, we are also seeing US vendors offering US and Canadian sourced Haddock.

Pricing on twice frozen Haddock fillets at the end of 2016 was about $2.60/lb and raw materials pricing in China hovered around $2700 per metric tonne.

Strong North American Demand for Haddock through 2017 saw the price of twice frozen Haddock fillets rise to about $3.50/lb by mid 2018.

After the 10 percent US imposed tariff on China hit in September 2018, we saw prices at the end of 2018 rise to $3.75/lb for twice frozen Haddock fillets and on the raw materials side - a price increase to $3400 per metric tonne.

Current pricing now after the most recent tariff increase to 25 percent is $4.60/lb for twice frozen Haddock fillets however raw materials pricing in China have remained unchanged since 2018 at $3400 per metric tonne.

Domestically, current pricing for single frozen US sourced Haddock can be seen between $3.70/lb USD for smaller fish to $4.30/lb USD for larger fish.

--- In Canada, unaffected by the US/China trade wars, the market for Haddock has remained steady.

Pricing for twice frozen Haddock fillets in Canada have averaged around $3.60/lb FOB Toronto for the bulk of 2019.
--- In China, value-added exports of Haddock products into the US are slow due to the tariffs.

One of the largest Haddock processors in China has seen their volume of containers into the US drop by 50 percent.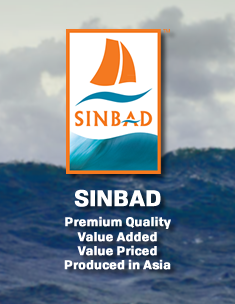 Haddock processors in China are currently pushing their sales into the EU and UK.

We are also hearing that some Chinese processors believe US buyers will start purchasing in the second half of this year due to demand in the US.

--- Norwegian and Russian sourced Haddock raw materials in China have been steady over the last few years averaging $3400 per metric tonne.

The joint Norwegian and Russia Haddock quota for 2019 was set at 172,000 metric tonnes and The Directorate of Fisheries reports that by the end of July, about 67,000 metric tonnes had been harvested.

The 2018 joint Norwegian and Russia Haddock quota was 14 percent less than 2019 at 202,000 metric tonnes where only 94,000 metric tonnes of Haddock were harvested.

Our Recommendation is to start developing business in Canada and if you are in need of Haddock in the USA to please contact us at Tradex Foods where our expert Sales and Logistics Team will help you find a solution.

--- And finally, our TradexLIVE offer of the week is for our SINBAD brand Haddock Fillets.

This is our reliable, value priced product line produced in Asia.

These are 2019 Production, Boneless, Skinless and come with a 100 percent Net Weight Guarantee.
TradexLIVE Offer of the Week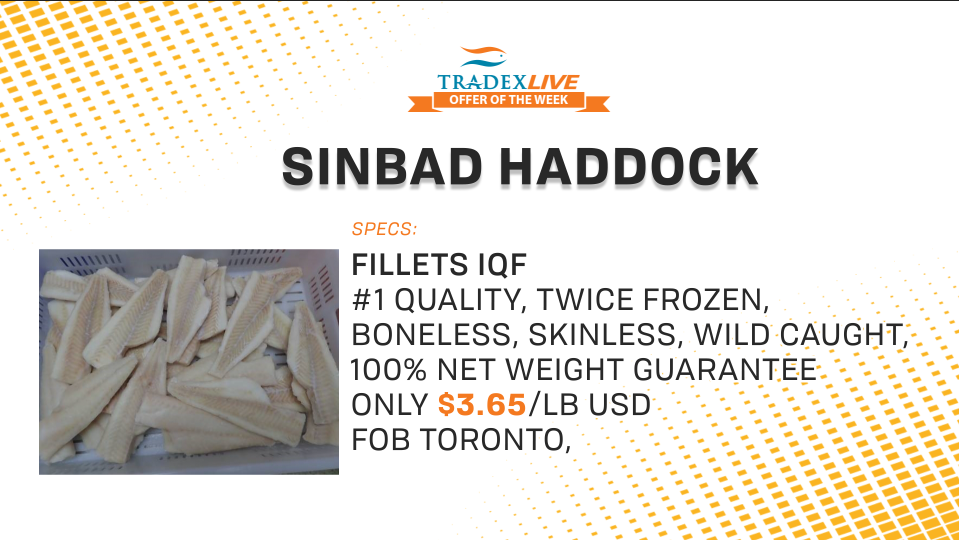 (Click to View Offer)
If you have a topic you'd like to hear on upcoming 3-Minute Market Insights, tweet us on Twitter @TradexFoods
Subscribe to our 3-Minute Market Insight