EP 423 | AIRED 02/04/2019
2019 Halibut Limit Increase, How Will This Affect The Market
**Corection Notice** - In the video, we reported a 2019 Halibut quota increase of 38%. The announcement from the Conference was the TCEY (which increased only 3.76%).
February 4, 2019 - The International Pacific Halibut Commission concluded the 95th annual meeting last Friday in Victoria BC.

At last year's annual meeting, stakeholders and scientists discussed quotas and bycatch with much contention, resulting in a stalemate without a quota...
The 2017 total allowable catch of 40.75 million pounds was adopted for a few months before reaching an agreement of 27.93 million pounds for the 2018 season.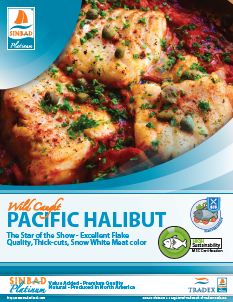 A reduction of 38 percent year-to-year followed a "more restrictive" approach across all areas from both NOAA and the Department of Fisheries and Oceans in Canada across.

--- Inventory holdings are still quite high, several processors indicate holding product from even as far back as 2017 production.

Pricing trends have had no particular pattern this season, hovering between $11.00 and $12.00 per pound since August for single frozen 1-3 pound deep skinned halibut fletches.
--- This is considerably lower than the same time in 2017 when prices were between $14.75 and $15.25 per pound on the West Coast.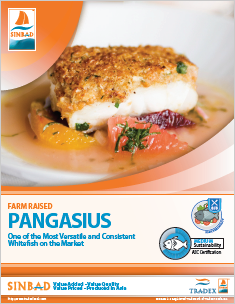 Pricing this year is still indicative of too much supply in the market, and with increased supply potential from a higher quota, the market will be difficult to predict.

--- And Finally, our TradexLIVE offer of the week is for SINBAD 7-9oz IQF Pangasius fillets.

We have 250 cases available of #1 quality Swai fillets packed 1x15lb available in Los Angeles for $2.90/lb USD.
TradexLIVE Offer of the Week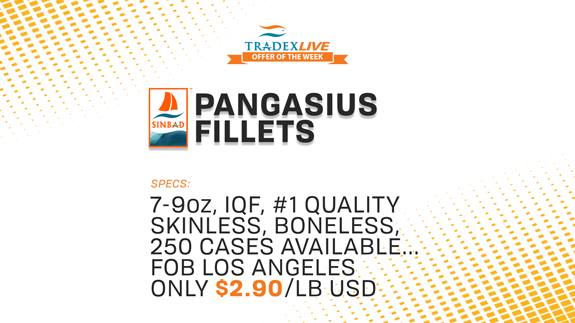 (Click to View Offer)
SINBAD products are harvested from sustainable fisheries (when possible) and are produced from the finest raw materials with exceptional harvesting and processing standards. All products follow our industry best 7-Step Quality Control Process delivering comprehensive inspections at every stage of processing. With our SINBAD Brand, you get a premium product, produced in Asia with our 100% Net Weight Guarantee, Accurate Piece Counts, and No Folded Bellies or Tails.
If you have a topic you'd like to hear on upcoming 3-Minute Market Insights, tweet us on Twitter @TradexFoods
Subscribe to our 3-Minute Market Insight