EP 445 | AIRED 07/08/2019
The Rising Price Of Pollock
July 8, 2019 --- In this week's episode we investigate the rising price of Pollock. Pollock's summer catching season is underway and raw materials pricing in China are continuing to rise. Just last month, raw material prices in China were hovering around $1530 per metric ton USD. Last week, our VP of Asia Operations advised of an increase in pricing to $1650 per metric ton with vendors saying pricing will continue to rise even further. Russian Alaska Pollock raw materials pricing have been on a steady bull run since 2017. At it's low point in quarter two of 2017, prices in China were hovering around $950 per metric ton. So what are some of the possible explanations for this longterm uptick in pricing...
2019 Alaska Salmon Commercial Harvest Counter
(Harvest in thousands of fish)
Undervaluation, a weakened supply for Surimi production, and aggressive marketing efforts are what we believe to be contributing factors.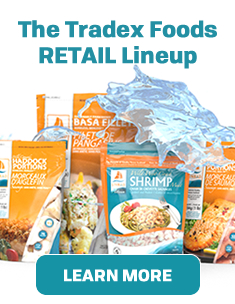 --- For a while now, Pollock has been deemed undervalued for whitefish overall.

With the high pricing of all the other seafood categories there was room for Pollock to increase in price.

--- Next, despite large production volumes, the Alaska Pollock Surimi supply cannot meet a growing demand.

Since 2011 Alaska Pollock producers have been supplying roughly 200,000 metric tons of surimi for exports.

According to industry experts global surimi production is around 800,000 metric tons.

--- Lastly, aggressive marketing efforts by key producers and trade marketing group Genuine Alaska Pollock Producers have helped land larger USDA contracts and propelled new product development.

Key Alaska Pollock producers have been awarded contracts to supply the US Department of Agriculture (USDA) with a record 13.8 million pounds of Pollock already this year.

USDA oversees the purchase of seafood to be used in school lunch programs, food banks, and other various food nutrition assistance programs.

As well, successful marketing efforts are propelling the new Surimi protein noodle into retail and foodservice.

Two big trends in the restaurant industry right now are alternative proteins and sustainable seafood.

According to UCN, the protein noodle is the latest example of a new product development drive around Pollock which has seen the prices for Pollock rocket from all-time lows over the past year years.
--- As the summer Pollock season is underway we were told most of the fish in China is from the Bering Sea and the quality is supposed to be very good. In a June update from the Russia Pollock Catchers Association, Russia's overall Pollock harvest in the Far East Fishing Basin reached 1.07 million metric tons.

Based on these numbers, overall harvest projections are for around 1.7 million metric tons landed in Russia for the year.

Russia's total allowable catch for Pollock was set at 1.8 million metric tons for 2019.

The Russian Pollock TAC could be forecasted to drop in the coming years even though it was up slightly for 2019.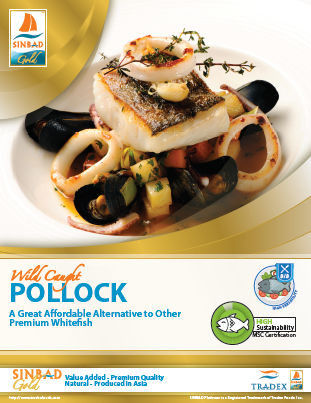 --- In Alaska, The National Marine Fisheries Service revised the 2019 total allowable catch for Pollock in the Gulf of Alaska to 141,227 metric tons bringing the new Statewide TAC for Alaska Pollock to just over 1.5 million metric tons.

Latest catch data from NOAA Fisheries shows that statewide Alaska harvest is just under 50 percent of the TAC.

A stock assessment presented by the North Pacific Fishery Management Council shows that the Bering Sea TAC could come down in 2020 due to a decrease in biomass.

--- As Pollock prices continue to rise we recommend that you secure your Pollock as early as you can but also to NOT purchase just on price.

Buying low priced, low quality, oversoaked Pollock only cost you more money in the longrun.

--- And finally, our TradexLIVE offer of the week is for SINBAD Gold Pollock Loins.

This product is our Zero Additive, Premium Quality product line Produced in Asia.

These are #1 Quality, Chem Free, Twice Frozen, and come with our 100 percent Net Weight Guarantee.
TradexLIVE Offer of the Week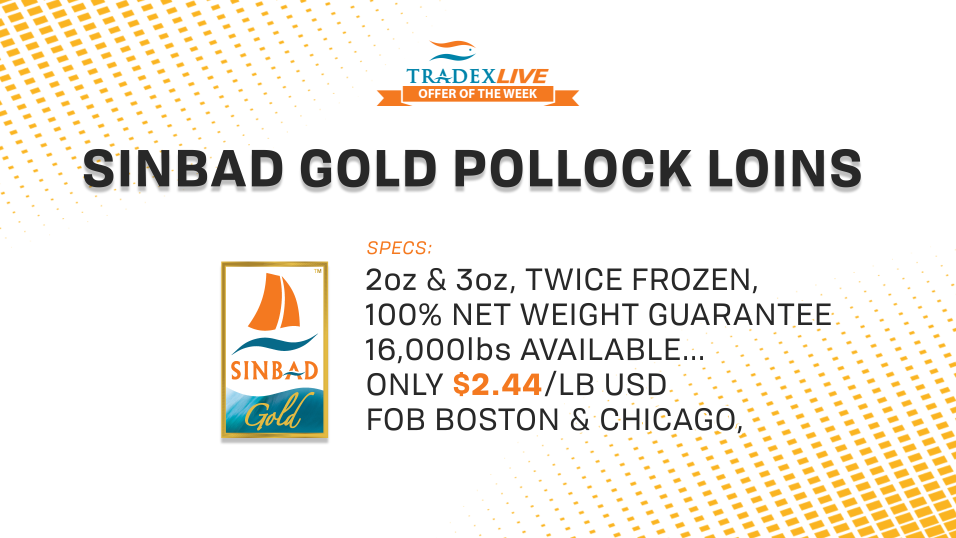 (Click to View Offer)
SINBAD Gold products are harvested from sustainable fisheries (when possible) and are produced from the finest raw materials with exceptional harvesting and processing standards. All products follow our industry best 7-Step Quality Control Process delivering comprehensive inspections at every stage of processing. Our SINBAD Gold Brand is our Zero Additive, Premium Quality product line Produced in Asia.
If you have a topic you'd like to hear on upcoming 3-Minute Market Insights, tweet us on Twitter @TradexFoods
Subscribe to our 3-Minute Market Insight