EP 453 | AIRED 09/02/2019
3MMI - FAS Fleets Update for Cod, Flounder, Sole, Perch, China Raw Materials Prices
September 2, 2019 --- In this week's episode we update on Frozen-at-sea fleets for longline and trawl caught species in Alaska. For Pacific Cod, 70 percent of the 187,000 metric tonne quota has been harvested in the Bering Sea Aleutian Islands and Gulf of Alaska this year.
2019 Alaska Salmon Commercial Harvest Counter
(Harvest in thousands of fish)
This quota has been on the decline over the years with last season's quota at about 217,000 metric tonnes and 300,000 metric tonnes the season before that.

Just for comparison, the 2019 Joint Norwegian and Russia Cod Quota is 746,000 metric tonnes and to-date about 35 percent has been harvested.

The 2018 Joint Norwegian and Russia Cod Quota was 796,000 metric tonnes.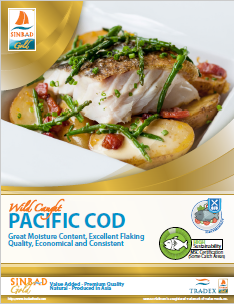 Back to Alaska, Flounder harvest to date have reached 27 percent of the 95,000 metric tonne quota this year.

The Flounder quota from last season has remained relatively unchanged and the 2017/2016 season's quota slightly higher at 122,000 metric tonnes.

For Sole, commercial harvesting of this species in Alaska consist mainly of Flathead Sole, Rock Sole, Yellowfin sole and Rex Sole.

Latest catch data shows that about 51 percent of the 262,000 metric tonne combined quota has been harvested and the previous two season's quotas have remained about the same level.

Last year, about 68 percent of the season's quota for Sole was realized.

Typically during the summer months, boats will stop harvesting Sole as the texture of the fish is too soft.
The combined BSAI and GOA harvest of Pacific Ocean Perch in Alaska has reached about 46 percent of the current seasons quota of 104,000 metric tonnes.

Ocean Perch's quota has been on a steady incline over the previous two seasons at 104,000 for 2018/2017 and 94,000 for 2017/2016.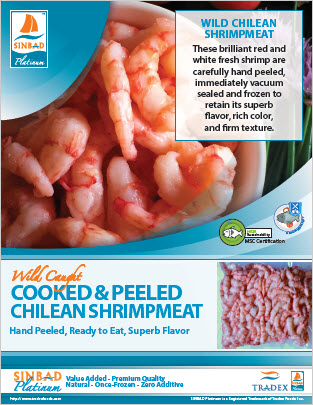 --- Over in China, imports of Alaskan raw materials continue to weaken as the trade war between the USA and China advance with no end in sight.

Our sources in Asia tell us Pacific Cod raw materials are still at a low levels and plants have a lot of inventory.

FAS Russian Trawl caught raw materials are around $3100 per metric tonne and longline between $3400 - $3500 per metric tonne.

Alaskan Longline raw materials are currently over $4100 per metric tonne right now which amounts to a forty cent difference on finished goods.

With a price gap this wide plants will choose to use Russian product over Alaskan unless there is a need for a MSC certified product.

The Russian Longline Pacific Cod fishery is to become MSC Certified before the end of the year is up so it will be interesting to see what impacts that may have on the supply and demand of Pacific Cod.

--- Current raw materials pricing for B Season Flounder is around $1800 per metric tonne.

Keep tuned in here to our 3-Minute Market Insight to see what happens next to Flounder and Sole as the US and China trade war evolves even further.

--- And finally, our TradexLIVE offer of the week is for Longline Caught Alaskan Cod.

These are MSC Certified, J-Cut, Block Frozen, and available in 3-4lb and 5-7lb at $2.00/lb USD FOB Boston.

This is a great product for a great price.
TradexLIVE Offer of the Week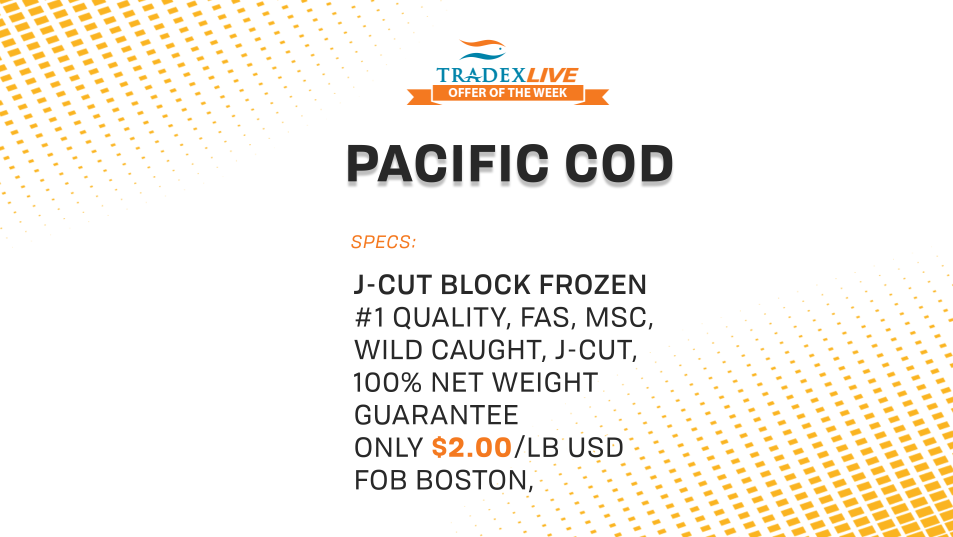 (Click to View Offer)
If you have a topic you'd like to hear on upcoming 3-Minute Market Insights, tweet us on Twitter @TradexFoods
Subscribe to our 3-Minute Market Insight